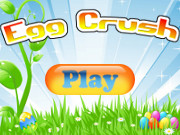 Description
Happy Easter! Crush as many Eggs as you can in this exciting Easter Egg puzzle game. Try the new special game mode of Egg Crush and challenge your friends! *NEW* Special Game Mode: The eggs are refilling - endless. Use your 25 seconds wisely and try to score as high as possible! Tip: Crushing big groups of eggs gives you a lot more points then crushing many smaller ones. In Egg Crush your goal is to clear the board by clicking groups of three or more easter eggs. Groups are connected eggs of the same color. The more eggs you can crush with one click, the higher your score will be. To reach the next level you need to crush the required amount of balls. You can adjust the performance of the flash game by selecting low/medium in the quality settings. Then the amount of snow will be reduced which should help a bit.
Instructions
Only the mouse is needed for playing.
Click groups of three or more eggs to crush them.
Groups are connected eggs of the same color. Larger groups give you a much higher score!
Restrain yourself from click-"spamming" and plan your clicks wisely.
You do get a higher score this way and increase your chance to reach higher levels.
Tags
None